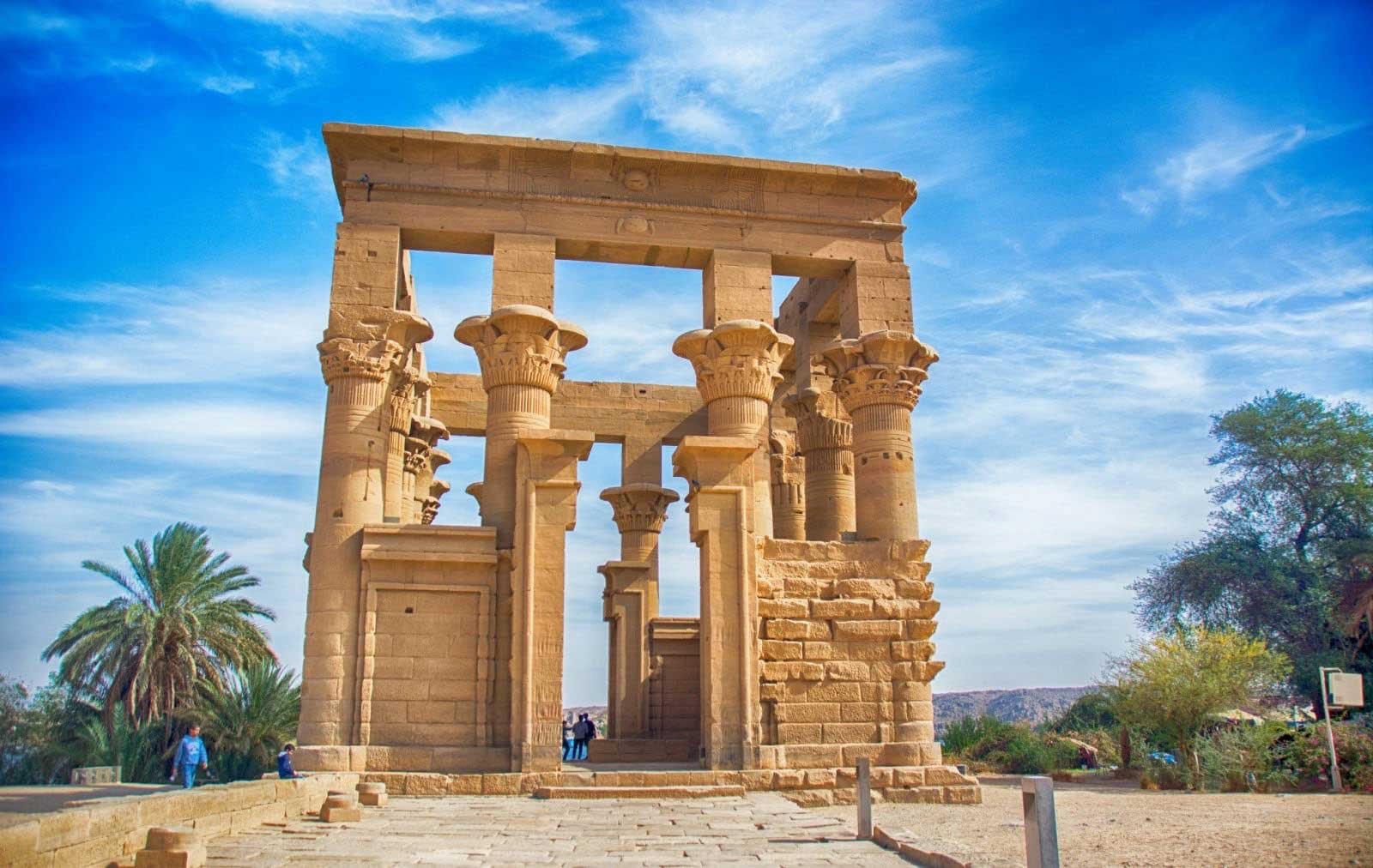 General Tips about Touring Aswan Egypt:
Arabic is the official language, English is widely used as second language.
Learn some Arabic words like Shokran, Mn Fadlak.
Always wear comfortable shoes.
Buy a local SIM card.
The currency of Egypt is the Egyptian pound, The value of the Pound is effectively fixed at the rate of 0.064 LE to 1 USD, Credit cards are widely used in Egypt.
Try the famous Egyptian food like "Fool", Egyptian beans, and "Koshary", a traditional Egyptian pasta dish.
Try Kebab and Kofta, the Egyptian traditional meat dish
Stay Hydrated at all times especially during the summer in Egypt.
Friday and Saturday are the official holidays in Egypt.
The metro is one of the fastest ways to travel from one place to another within Cairo.
Keep our tour Guide by your side to fully enjoy your time in Egypt.
Highlights Of Egypt:
Explore the Pyramids of Giza, the Sphinx, and valley temple which belongs to king Chephren.
Admire the wonders of ancient history at the Egyptian Museum.
Shop at Khan El Khalili Bazaar's enchanting markets in old Cairo.
Behold the holy Islamic & Coptic attractions in Old Cairo.
Feel the grandeur of Luxor within its majestic temples & tombs.
See Luxor temple, Hatshepsut temple, Valley of the Kings and Karnak temple in Luxor.
Witness the great Philae and Abu Simbel temples in Aswan.
Board a soulful Nile Cruise from Luxor to Aswan or vice versa.
Discover the Natural Allure of Egyptian oases like Siwa or Bahariya Oasis.
Swim, Dive, and snorkel in Hurghada or cities situated on the Red Sea.
Dive or snorkel in Sinai or cities situated on the Red Sea.
Visit the Saint Catherine Monastery in Sinai.
Aswan Tours and Excursions
Aswan Private Tours & Excursions
Aswan Day tours, Tour packages, Nile river cruises, and Family-friendly tours all tailor-made
Booking Aswan day tours can't be easier. Bastet Travel offers Aswan tours and Aswan tourist attractions and also the best things to do in Aswan .
Frequently asked questions about visiting Aswan Egypt
What are the best tours in Aswan?
Is Abu Simbel worth visiting?
Absolutely! The temples of Abu Simbel are some of most impressive and unique temples you will see in Egypt, so it is well worth the visit.
Why is Abu Simbel famous?
It was dedicated to the gods Amun, Ra-Horakhty, and Ptah, as well as to the deified Ramesses himself. It is generally considered the grandest and most beautiful of the temples commissioned during the reign of Ramesses II, and one of the most beautiful in Egypt.
How far is Abu Simbel from Luxor?
The distance between Luxor and Abu Simbel temples is 388 km. The road distance is 477.5 km.
Is it safe to travel to Egypt
Egypt is nearly crime-free; as Lonely Planet notes, "The incidence of crime, violent or otherwise, in Egypt is negligible compared with many Western countries, and you're generally safe walking around day or night."
Is Egypt Safe for Americans to Travel to
We get this question a lot at Bastet Travel In short, Americans and other visitors can rest easy: yes, Egypt is a safe country for tourists. And the rest of the world seems to agree — after years of middling numbers, tourism in Egypt is steadily rising towards its former highs, hosting over 9 million sightseers in 2018. The longer answer is worth exploring, though, and we have some assurances to offer all our clients who join us on all of our Egypt Travel Packages.
What is the best Nile cruise in Egypt
Sonesta Moon Goddess.
Oberoi Philae Nile Cruise.
Oberoi Zahra Nile Cruise.
Sonesta Star Goddess Cruises.
M/S Esplanade Cruise.
Nile Goddess Cruise.
What are the best day trips in Egypt
What are the most famous tourist attractions in Egypt
Egypt has so much for travelers to see and do, it's the perfect country for a mix of activities combining culture, adventure, and relaxation. Find the best places to visit with our list of the top tourist attractions in Egypt.
Valley of the kings
Luxor's Karnak Temple
Christian and Islamic Cairo
St. Catherine's Monastery
What are the best tours in Luxor?
How many days do you need in Luxor?
Luxor requires a minimum of 3 days. There is so much to see and do so you will be on the go the whole time. I'd say the minimum time needed to visit Luxor is two days, but you can easily spend longer as there are so many sites, and it's worth taking the time to enjoy the atmosphere.
How do you get to Luxor?
Egypt Air flies four times daily direct to Luxor International Airport from Cairo International Airport. Flights take one hour, and ticket prices start at around US$145 in the high season from December to February. If you're traveling in low season, flight prices often drop.
Is Luxor worth visiting?
Luxor and Cairo are exceedingly different places and yes Luxor is well worth visiting. This, however, doesn't mean you have to do it. If you want to see iconic sites such as the Valley of the King's and Karnak Temple (to name just two of the many sites in and around Luxor), then you have no choice.