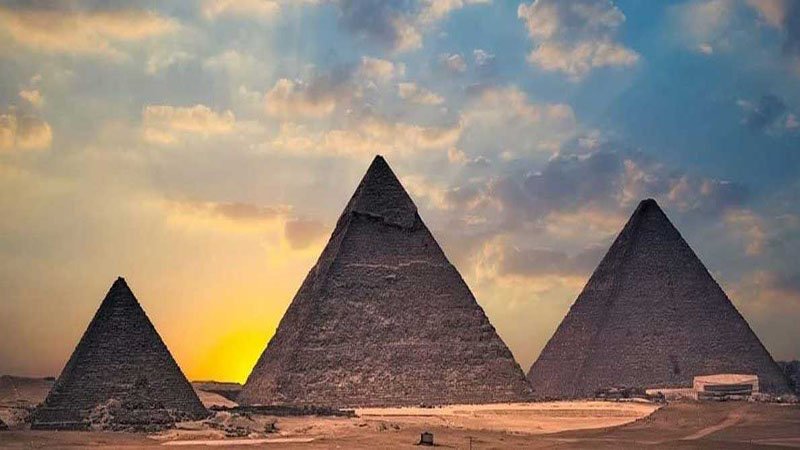 Egypt Pyramids Tours
We provide a wide variety of Egypt Pyramids tours , discover Pyramid Tour In Egypt visiting Giza Pyramids! Your guide will take you to the 5000-year old Great Pyramids. Stand at the Pyramids, of Cheops, Chefren. Pyramid lovers will enjoy exploring the Egyptian highlights on a private guided tour, discovering Giza's Great Pyramids.
Egypt's most famed and feted structures, these ancient tombs of kings guarded by the serene Sphinx have wowed spectators for centuries. A holiday to Egypt isn't complete without making the journey to Cairo to visit the Pyramids of Giza. Explore the inspiring Pyramids Tour in Egypt! Get amazed by Pyramid tour in Cairo discovering the ancient history of the pharaohs.
Book the best pyramids tour Egypt with Bastet Travel Egypt. Uncover the ancient mysteries of Egypt on a private full-day tour to the Pyramids of Giza, Memphis and Saqqara, Or Private full day trip to Giza Pyramids and Sphinx includes Camel Ride around the Great Pyramid then visit Egyptian Museum, or dazzling tour to visit Egyptian pyramids in Egypt, scout Egyptian pyramids in Cairo Giza, Saqqara, Maydoum and Fayoum, Tour to Visit
Egyptian pyramids.
Our Egypt Pyramid Tours and travel packages give you the chance to experience the countless tours of Egyptian Pyramids with our well-selected exclusive Egypt travel packages. We are offering a wide range of tours to Egypt that suits any taste, mixing classic tours of Ancient Egypt with Nile cruises, city tours, diving holidays, and adventures in the desert.
Egypt Pyramid Tour Packages
Are you looking for Egypt Pyramids Tour Packages ? Do you need to plan your Trip to Egypt Pyramids? we can help you to do this easily. Our travel experts give you the chance to experience all Egypt with our amazing Egypt Pyramids Tour Packages , most of our travel packages are offered with a private tour guide. Our Egypt Tour Packages suit any taste, We offer classic tours to Giza Pyramids with Nile cruises, city tours, diving holidays, and adventures in the desert. Browse our Egypt Pyramids Tour Packages now and pick your favorite one! There are countless things to do and see in Egypt. we will take you to The Pyramids of Giza , The Egyptian Museum, Luxor . Aswan, the desert and the oases like the white desert The red sea, resorts like Hurghada or Marsa Alam ! Moreover, Book now your Egypt tour Package with us.
Our Egypt Pyramid tour Packages are all about exploring everything about the pyramids with Private guided tours to Egypt Pyramids. Our Private Trips to Egypt Pyramids are a good selection to enjoy a comfortable vacation in the land of pharaohs which includes visiting the Pyramids of Giza accompanied by a private Egyptologist tour guide. Our Private Egypt Pyramid tours will provide everyone with the finest vacation accompanied by the highest level of safety, luxury, and affordable prices. With our new flexible terms and conditions and fair cancelation policies, everyone will be on the safe side for booking a private tour to Egypt with us.  
With countless experiences to live and a lot of wonders to see in Egypt, check our Egypt vacation packages now and pick your favorite one and what suits your taste:
Best Recommended Egypt Pyramid Tours Packages :
1- 2 Days tour Package in Cairo
2- Best of Cairo and Giza – 2 Days tour
3. Cairo and Luxor By Train in 6 days: Prices starting from $950.
4. 10 Days in Egypt with Nile Cruise: Prices starting from $1550.
5. Cairo, Alexandria, Aswan, and Luxor Package: Prices starting from $1700.
6. Abu Simbel Sun Festival: Prices starting from $1800.
Related Tours and Excursions
Frequently asked questions about visiting Egypt
Is it safe to travel to Egypt
Egypt is nearly crime-free; as Lonely Planet notes, "The incidence of crime, violent or otherwise, in Egypt is negligible compared with many Western countries, and you're generally safe walking around day or night."
Is Egypt Safe for Americans to Travel to?
We get this question a lot at Bastet Travel In short, Americans and other visitors can rest easy: yes, Egypt is a safe country for tourists. And the rest of the world seems to agree — after years of middling numbers, tourism in Egypt is steadily rising towards its former highs, hosting over 9 million sightseers in 2018. The longer answer is worth exploring, though, and we have some assurances to offer all our clients who join us on all of our Egypt Travel Packages.
Is it safe to visit the Pyramids?
What are the most famous tourist attractions in Egypt?
Egypt has so much for travelers to see and do, it's the perfect country for a mix of activities combining culture, adventure, and relaxation. Find the best places to visit with our list of the top tourist attractions in Egypt.
Luxor's Karnak Temple
The Egyptian Museum
Christian and Islamic Cairo
St. Catherine's Monastery
How Much will I have to pay as a deposit?
The fixed deposit amount is 25% of the tours total price Except for Egypt Christmas tours, new years and other peak seasons where the deposit goes up to 50%.
What is the best Nile cruise in Egypt?
Sonesta Moon Goddess.
Oberoi Philae Nile Cruise.
Oberoi Zahra Nile Cruise.
Sonesta Star Goddess Cruises.
M/S Esplanade Cruise.
Nile Goddess Cruise.
Do and do not in Egypt
Do and do not in Egypt
Do respect the monuments archaeological sites are human heritage don't touch scratch or sit on it. Do dress correctly whilst there is no specific dress code in the cities, women will feel more comfortable if they do not wear shorts or have their shoulders uncovered.
What do female tourists wear in Egypt?
Pants, Capris, Leggings, and Shorts
Basically, as long as your knees are covered, you are good. So whether you choose pants or capris, you will feel comfortable and remain respectful. Local women wear long pants or skirts; however, I wore capris a couple of days with no issues.
How Much does an Egypt vacation package cost?
Starting from only $950, a package is your passport to inexpensive travel. Custom build your Egypt trip by choosing from our comprehensive range of airfares, hotels, and rental cars.
What is the best time to visit Egypt?
The best time to visit Egypt
is from September through to April. Christmas, New Year and Easter are also very popular times to visit, so it's wise to book early.
How many days are enough to visit Egypt?
If you make the trek out to
the Red Sea
, plan to spend at least 2 full days there in order to get the most out of the journey. So if you tack on
the Red Sea
, that means you'll be in Egypt for about 7-8 days total at least. Anywhere from 5-8 days is pretty typical for
trips to Egypt,
even all the way from North America.
Is it a common practice to give tips in Egypt?
Service charges are by default included in the bill when dining in a restaurant. However, these fees go to the restaurant and not the waiters. Knowing this it is advisable and courteous to directly tip the servers with an additional 10 %.
How can I obtain my Visa to visit Egypt?
Visitors and travelers to Egypt are required to carry a passport valid for at least six months from their arrival date. However, in an effort to revitalize
tourism in Egypt
the following nationalities can purchase a 1-month entry visa on arrival. The Nationalities that benefit from the aforementioned exception are Australia, Canada, Croatia, the European Union, Georgia, Japan, New Zealand, Norway, Macedonia, South Korea, Russia, Serbia, Ukraine, United Kingdom, and The U.S.A. The Process for acquiring these entry visas is extremely simple and only takes a mere couple of minutes through any bank window before proceeding to customs.
General Tips about Travelling in Egypt:
Arabic is the official language, English is widely used as second language.
Learn some Arabic words like Shokran, Mn Fadlak.
Always wear comfortable shoes.
Buy a local SIM card.
The currency of Egypt is the Egyptian pound, The value of the Pound is effectively fixed at the rate of 0.064 LE to 1 USD, Credit cards are widely used in Egypt.
Try the famous Egyptian food like "Fool", Egyptian beans, and "Koshary", a traditional Egyptian pasta dish.
Try Kebab and Kofta, the Egyptian traditional meat dish
Stay Hydrated at all times especially during the summer in Egypt.
Friday and Saturday are the official holidays in Egypt.
The metro is one of the fastest ways to travel from one place to another within Cairo.
Keep our tour Guide by your side to fully enjoy your time in Egypt.
Highlights Of Egypt:
Explore the Pyramids of Giza, the Sphinx, and valley temple which belongs to king Chephren.
Admire the wonders of ancient history at the Egyptian Museum.
Shop at Khan El Khalili Bazaar's enchanting markets in old Cairo.
Behold the holy Islamic & Coptic attractions in Old Cairo.
Feel the grandeur of Luxor within its majestic temples & tombs.
See Luxor temple, Hatshepsut temple, Valley of the Kings and Karnak temple in Luxor.
Witness the great Philae and Abu Simbel temples in Aswan.
Board a soulful Nile Cruise from Luxor to Aswan or vice versa.
Discover the Natural Allure of Egyptian oases like Siwa or Bahariya Oasis.
Swim, Dive, and snorkel in Hurghada or cities situated on the Red Sea.
Dive or snorkel in Sinai or cities situated on the Red Sea.
Visit the Saint Catherine Monastery in Sinai.